---
There are currently no events scheduled.
---
INCY (Common)
$67.83

1.19
 (1.79%)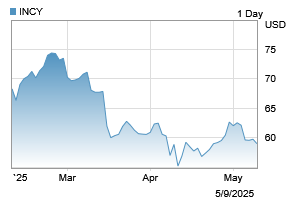 Data provided by Nasdaq. Minimum 15 minutes delayed.
Michael Booth, D.Phil.




Vice President, Investor Relations


Phone:

302.498.5914


E-mail: mbooth@incyte.com
Lauren Kwiecinski
Director, Investor Relations
Phone: 302.498.6141
E-mail:
lkwiecinski@incyte.com
Computershare
P.O. Box 43078
Providence, RI 02940-3078
Phone: 877.272.1536
---
Notice To Readers: Incyte's press releases, presentations and printed remarks are included on this Web site for historical purposes only. The information contained in these documents and webcasts should be considered accurate only as of the date of the relevant document or presentation. This information may change over time; therefore, visitors to this Web site should not assume that the information contained in these documents or presentations remains accurate at a later time. We do not have any current intention, and expressly disclaim any obligation, to supplement, update or revise any of the information in these documents or presentations.